5 Electric Home Dangers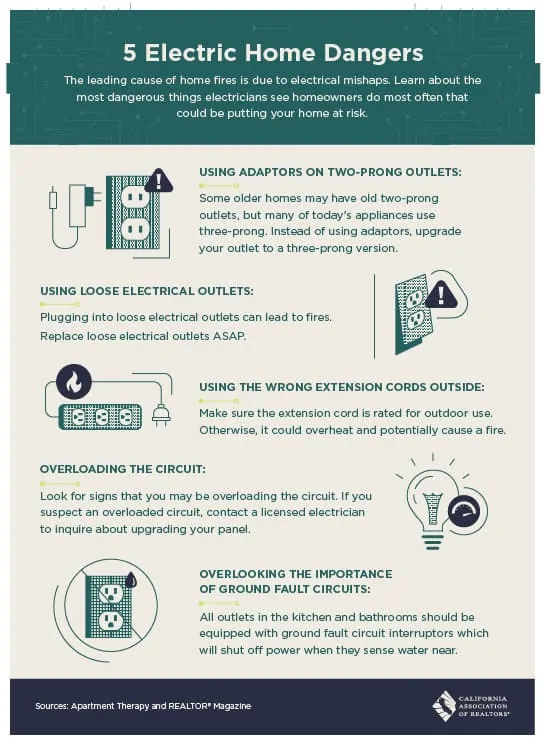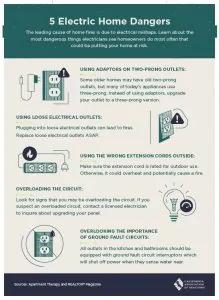 Using adapters on two prong outlets: Some older homes may have old two prong outlets, but many of today's appliances use three prong. Instead of using adapters, upgrade your outlet to a three prong version.
 2. Using loose Electrical Outlets:
    Plugging into loose electrical outlets can lead to fires.Replace loose electrical outlets asap.
3.  Using the wrong extension cord outside:
     Make sure the extension cord is rated for outdoor use. Otherwise, it could overheat and potentially caused a fire.
4. Overloading the circuit: 
    Look for signs that you maybe overloading theLook for signs that you maybe overloading the circuit. If you suspect and overloaded circuit,            contact a licensed electrician to upgrading your panel.
5. Overlooking the importance of ground fault circuits.
    All outlets in the kitchen and bathroom should be equipped with ground fault circuit interruptors which will shut off power when they sense            water near.
It is always safe to have regular safety inspections. You may choose to call your city or county and see if they provide free safety checks or call a local home inspection service company or licensed contractors regularly to monitor the home electrical and other safety matters.
Compliments of:
Mahesh Mike Patel
Broker Associate
First Team Real Estate
714-470-8600
License #: 01146880