Homeownership Has Its Benefits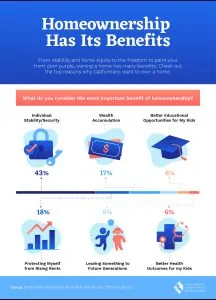 I always dreamed of owning a home and bought my first home in my late 20's. Owning a home is one of the top American dreams, yet only approximately 65% of the population own a home.
The benefits of homeownership are plentiful. From stability and home equity to the freedom to paint your front door purple, owning a home has its many benefits. Here are  the top reasons why California wants to own a home.( According to CAR Survey)
What do you consider the most important benefit of home ownership?:
43% Individual stability and security.
17% Wealth accumulation.
6% Better education opportunities for my kids.
18% Protecting myself from raising rents.
9% Leaving something to future generations.
6% Better health outcome for my kids.
On a side note, you may want to own a home, as you will instantly have a new friend! – Homedepot! because you will be going there a lot! I truly believe homeownership has its benefits.
Feel free to text or call me if I could point you in the right direction when it come to finding a home. Financing, location, nearby schools, nearby freeways and major highways, entertainment, shopping  etc play a big role nowadays when it come to home buying.
Here are some homes for sale at random in North Orange County, with the latest listings shown first. This list can give you an idea of current prices  and locations.
with compliments:
Mahesh Mike Patel
Broker Associate
First Team Real Estate
Christie's International
714-470-8600
Call Me And Consider It Done.
License #: 01146880